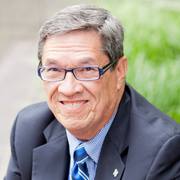 Richard Jung comes to the Portland Gay Men's Chorus with over 23 years of experience in the non-profit sector including over 6 years as the National Senior Program Officer at the Gill Foundation in Denver, CO where he worked on various LGBT initiatives targeting Community Centers, Communities of Color and Statewide Organizing. Rick also has extensive background in HIV/AIDS, both at the community level, having served as the Director of Development for the Boulder County AIDS Project in Boulder, CO and nationally, serving as a member of the Ms. Foundation's 'Women and AIDS Advisory Committee' and as the Vice-Chair of Funders Concerned About AIDS – a national group of corporations and foundations working together in increase financial support for HIV/AIDS at the local and national level. He most recently worked in higher education as a Director of Development for his alma mater, Boise State University, and at Rutgers University and Portland State University. Rick hales from Boise, Idaho and is a proud graduated of Boise State University where he earned a degree in Theatre Arts. When not in the office, Rick can either be found harmonizing in the Baritone Section of the chorus, swatting at yellow balls on the tennis court, or indulging in his favorite passion – Broadway. He is a proud U. S. Navy veteran.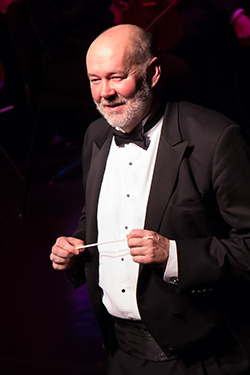 Bob Mensel has served as the Artistic Director of the Portland Gay Men's Chorus since 1993. Prior to moving to Portland, he was Conductor of the Salt Lake Men's Choir and co-founder of the Salt Lake Choral Scholars. His earliest training was in his hometown of Washington, D.C. where he studied piano with Caryl Traten Fisher and sang with numerous schools and honor choirs, including the University of Maryland Chorus. He first attended the college at Brigham Young University, but completed his undergraduate studies at the University of Utah where he received a degree in Music History in 1989. In 1992, he graduated with a Master of Music in Choral Conducting from the University of Oregon. Bob recently completed a PhD in Music History and has served on the panel for the Arts Industry Development Grants of the Oregon Arts Commission.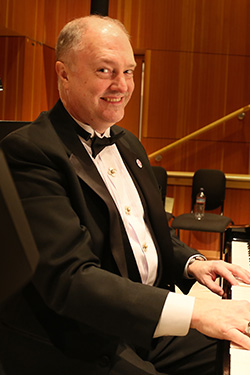 Michael Barnes
Principal Accompanist
Michael Barnes has been accompanying singers since his high school days in Seattle, Washington. He has toured nationally for Community Concerts, and tours internationally as the third member of the now infamous BoZoArtZ Duo. His mentors have been Dr. Alberton Rafols (University of Washington) and Dr. Edith Kilbuck (Lewis and Clark College). He received a Master of Music degree in Piano Performance-Accompaniment in 1986. He has also coached with Dalton Baldwin, Gwendolyn Koldofsky, and Jan Meyerowitz at the American Institute of Musical Studies in Graz, Austria. Barnes maintains long-time associations with the Portland Gay Men's Chorus (with whom he has also appeared as vocal soloist and accordionist), Bravo Vancouver, Lewis and Clark College, Portland State University and with the Old Church Society, for whom he schedules their Sack Lunch Recitals. He is also the organist of Westminster Presbyterian Church in Portland.
Mary McCarty
Conducting Associate
Mary conducts the vocal subgroups of PGMC, coaches soloists, and assists the Artistic Director. She is also a freelance flutist and singer who has performed with many local groups including PGMC, David York Ensemble, Choral Cross Ties, Bridges, Aurora, Confluence, Viriditas and Satori. She is the former conductor of Chrysalis Children's Choirs and recently founded a treble choir at Sunnyside Environmental School. Before coming to Portland in 1995, Mary lived in Ithaca, NY, where she sang with the Cayuga Vocal Ensemble and performed frequently with the Genesee Baroque Orchestra (Dana Maiben, conductor). She received her Bachelor of Music degree from State University of New York at Potsdam. By day, she is an IT Manager at Daimler Trucks North America. Mary and her partner Lottie Zorn live in Portland with two fabulous daughters and many pets.
Alan Williams
Production Manager
Alan is a First Tenor in his 14th Season with PGMC.  Since his first concert he has been heavily involved with the Production Team as the Sound Engineer.  This season, he has taken over the duties of Production Manager.  Alan is also an accomplished guitarist and has played the guitar at various times during Mainstage shows as well several cabaret and solo concerts.  Alan hails from Daytona Beach, Florida and currently makes his home on the south aspect of Mt. Hood in Government Camp, Oregon.  He works as a contractor for the US Army where he provides policy-level IT services.
Terrill Grubbs
Administrative Coordinator
Erin Haley
Communications/Events Coordinator
Jwo Fox-Lee
System Administrator
Howard Neal
Member Information Coordinator