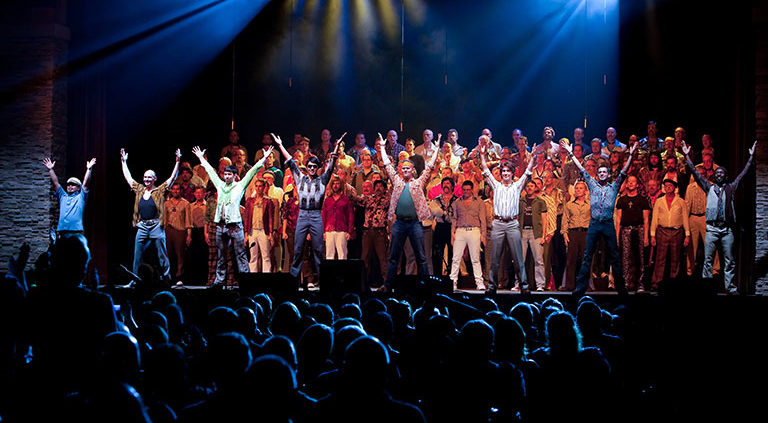 Chorus Kicks off Portland Pride Week with "The Divos" Concert
PORTLAND, Ore., May 17, 2017 – The Portland Gay Men's Chorus (PGMC) is gearing up to celebrate Portland Pride Week with a performance of "The Divos" on June 17. Portland-based singer-songwriter Matt Alber will join PGMC as a special guest as the chorus performs the greatest hits from the world's most popular male artists—covering genres such as jazz, pop and everything in between.
This one-night-only production marks PGMC's first partnership with Pride NW, the Pacific Northwest's largest LGBTQ nonprofit organization. A portion of the concert's proceeds will go to Pride NW to help assist in the education of all people through the development of activities that showcase the history, accomplishments and talents of LGBTQ communities throughout the region.
"For many years, our June concert has celebrated Pride," said Richard Jung, executive director of the Portland Gay Men's Chorus. "This year for the first time, we are officially recognized as a Portland Pride event and look forward to donating a portion of our proceeds to Pride NW."
"Our mission has always been to encourage and celebrate the diversity of the LGBTQ community while increasing visibility around the culture and contributions of our community," said James Waldner, president of Pride NW. "We are thrilled to welcome the Portland Gay Men's Chorus as an official partner of this year's Pride Festival, and we look forward to spreading the message of inclusion for years to come."
"This year's summer concert celebrates the most legendary and iconic male artists of the music industry," said Bob Mensel, artistic director of PGMC. "With the set list including hits by Simon and Garfunkel, Michael Jackson, Nat King Cole, Elton John and Bruno Mars, the chorus is pulling out all the stops for a spectacular show to close our season."
When: Saturday, June 17 at 7:00 p.m.
Where: Arlene Schnitzer Concert Hall, 1037 SW Broadway, Portland, Oregon
Tickets: Tickets are available now at www.pdxgmc.org or by calling 503-226-2588, with prices ranging from $5 to $52.
For more information on the concert and Pride NW, visit www.pdxgmc.org and www.pridenw.org.
About The Portland Gay Men's Chorus
The Portland Gay Men's Chorus (PGMC), founded in 1980, was one of the first gay men's choruses formed in the U.S. Starting with just 26 singers, PGMC quickly grew into a prominent institution within the LGBTQ community. Today, PGMC is a thriving arts organization of over 140 singers, performing in front of packed houses across the region. Their mission is to expand, redefine and perfect the choral art through eclectic performances that honor and uplift the gay community and affirm the worth of all people.
https://www.pdxgmc.org/wp-content/uploads/2017/05/PGMC-Favorites-148-of-466.jpg
512
768
Terrill Grubbs
https://www.pdxgmc.org/wp-content/uploads/2017/04/PGMC-Logo.png
Terrill Grubbs
2017-03-15 20:06:51
2017-06-17 13:30:39
Portland Gay Men's Chorus partners with Pride NW