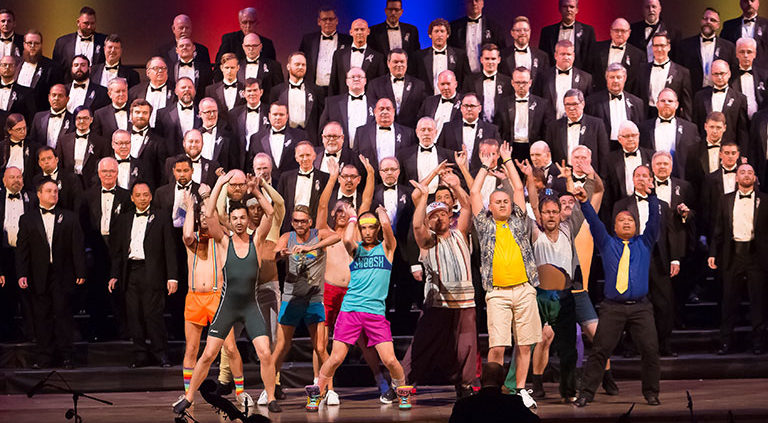 Portland Gay Men's Chorus announces:
PGMC International Tour – 11-day, 4-city tour of China beginning 8/30/2018 and ending 9/9/2018 ​
Tour Itinerary: Beijing, Xi'an, Shanghai and Suzhou (Portland Sister City)
The Portland Gay Men's Chorus has long included in our mission not only the aspiration to honor and uplift the gay community, but also to affirm the worth of all people. For 37 years, we have been building bridges to the wider community with our message of inclusion, illuminating the qualities that unite rather than divide us. The Chorus's legacy can be summarized in five words: ​PGMC has made a difference! ​The list of accomplishments continues to grow each season, with a strong commitment to never stop adding to the list.
Much has changed for the LGBTQ community in the last 37 years, not only in Oregon but across the United States. Who would have believed that the United States would achieve marriage equality in this lifetime? That LGBTQ men and women would be able to serve openly in the military. That the simple act of singing together in gay choruses could be an agent of change in countless communities around the globe.
Today PGMC has a unique and compelling opportunity to take its message of affirmation and inclusion to an entirely new audience – an international audience. Over the past three years, new LGBTQ choral groups have sprung up in places as removed as Africa, South America, and Asia. In Asia, Proud Voices is a growing network of 29 LGBTQ choruses located throughout Southeast Asia, including Japan, China, Taiwan, India, the Philippines, Singapore, and Thailand. While there have been challenges in winning acceptance, the reality is that these choruses are active, growing, and developing followings. In fact, they are changing the trajectory of the LGBTQ movement in their countries in ways reminiscent of PGMC and the GALA Choruses movement in the United States 30 years ago.
PGMC would like to be a part of that change. In collaboration with ACFEA Tour Consultants, an international company with experience presenting concert tours around the globe, PGMC will embark on a concert tour throughout China in late August/early September 2018, becoming the first international gay chorus to tour China! The trip will take us to Beijing, Xi'an, Shanghai and Portland's sister city of Suzhou, providing us the opportunity to promote LGBTQ rights on an international stage. We are inviting the Beijing Queer Chorus and the Hyperbolic Chorus of Shanghai to perform with us in Beijing and Shanghai. The trip will also include outreach performances in each of the tour cities, allowing for thoughtful interaction with smaller audiences. We will be working to create partnerships with numerous LGBTQ organizations within China, including PFLAG China, Beijing LGBT Community Center, and other social networks, to encourage personal and organizational interactions. The tour will help to advance the dialogue around LGBTQ rights in China, elevate the stature of the invited guest choruses within their own communities, and inspire and affirm the LGBTQ community here in Oregon, as we continue to live out our mission locally and internationally.
The Beijing Queer Chorus comes to Portland in March 2018
We have invited the Beijing Queer Chorus (also known as The Shiny Jazzy Chorus) to be a featured guest in PGMC's 2018 spring concert. The Beijing Queer Chorus, formed in 2008 with 15 members, has slowly built to a group of around 100 members, including 30-40 who perform in public. In its early days, many members wore masks to shroud their identity, as they were fearful of losing their jobs or facing rejection by family and friends. While a few still perform in mask, the chorus continues to flourish as both a musical organization and a vital social network for its members.
The Beijing Queer Chorus is currently the only chorus in China with a public performance calendar that now includes two concerts annually. Under the baton of Leo Lane, the chorus continues to grow musically and expand their musical repertoire to include jazz, pop, Broadway, and choral music from both the Chinese and Japanese traditions. They recently brought the house down with their performances at the International GALA Choruses Festival this past July in Denver, Colorado.
The Beijing Queer Chorus has accepted the Portland Gay Men's Chorus's invitation to join us as guest artists in March 2018. The concert, featuring music from around the Pacific Rim, will provide an exciting platform for the two choruses to collaborate on a new commission. We are also co-designing with Beijing a unique educational program to be presented in a number of local schools and community organizations during their 10-day stay in Portland.
If you would like more information about the Portland Gay Men's Chorus, the Beijing Queer Chorus, or the upcoming PGMC China Tour, please contact Richard Jung, Executive Director at rjung@pdxgmc.org or at 503-388-7676.
https://www.pdxgmc.org/wp-content/uploads/2017/05/PGMC-Favorites-394-of-466.jpg
512
768
Terrill Grubbs
https://www.pdxgmc.org/wp-content/uploads/2017/04/PGMC-Logo.png
Terrill Grubbs
2017-04-25 20:05:49
2017-06-17 13:30:34
PGMC Announced Historic First - China Tour 2018